News story
Villiers visits Hanwood Centre, Tullycarnet
Earlier today, Secretary of State Rt Hon Theresa Villiers MP visited the Hanwood Project in Tullcarnet, East Belfast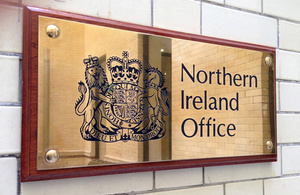 Speaking after her visit the Secretary of State said
I was pleased to have the opportunity to visit this excellent project and to hear how it has helped address the social and economic issues such as unemployment, health and education in the Tullycarnet area. The success of the project over several years clearly demonstrates what can be achieved by individuals and groups working together for the betterment of their local community.
I welcome the approach taken by local Government departments, working closely with the International Fund for Ireland, local council and other statutory agencies such as the Housing Executive in delivering this project. This is an excellent example of what can be delivered by collaborative working across different sectors.
During her visit the Secretary of State met some of those who have started up businesses at the Hanwood Business Park phase of the project.
It was great to see just how many local people have taken advantage of the facilities which have been made available and how this provided the opportunity to turn business ideas into reality.
Published 27 August 2014