Press release
Villiers statement on Loyalist Communities Council flags protocol
The group issued guidance today on flags, including when during the year flags should be flown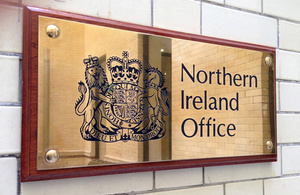 Responding to the statement, Secretary of State for Northern Ireland the Rt Hon Theresa Villiers MP said:
The UK Government welcomes this initiative as a step towards flags and emblems being displayed in a manner which demonstrates mutual respect for all parts of the community. It is important that everyone engages positively with the new Commission on flags and identity when this is established.
This year is an opportunity to reflect on significant episodes in our shared history, including the Battle of the Somme. It is important that commemorations promote greater understanding of the past and contribute to a peaceful, shared future.
Published 12 May 2016