News story
Villiers publishes draft Northern Ireland Bill
Draft legislation on electoral and funding issues in Northern Ireland has been published.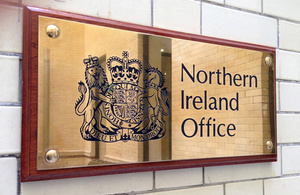 The Secretary of State for Northern Ireland, Theresa Villiers MP today published draft legislation which makes provision on the following issues:
donations and loans for political purposes
dual mandates
electoral registration and administration
appointment and tenure of the NI Justice Minister
Alongside this, the Secretary of State published responses to last year's consultation on measures to improve the operation of the Northern Ireland Assembly with an accompanying summary document.
Theresa Villiers said:
I hope to take forward primary legislation dealing with Northern Ireland matters in the third session of this Parliament.  I am publishing today a Command Paper setting out a number of draft clauses which deal with some important issues for Northern Ireland and which would form the basis of any such legislation.
These will be the first legislative provisions relating solely to Northern Ireland to go through pre-legislative scrutiny. This has been made possible by the ongoing stability of the political institutions in Northern Ireland and the success of the Agreements which created them.
The draft Bill does not seek to re-open the Belfast Agreement or its successors. Any kind of significant change to the Agreements could only come about with widespread consensus among the parties represented in the Assembly.  Rather, the Government's purpose here is to make a limited number of useful reforms, generally of a technical nature, that will improve how politics, and the Assembly, function in NI.
I have asked the Northern Ireland Affairs Committee to undertake scrutiny, and the Committee will issue a call for evidence very shortly. I hope that everyone with a view will make the effort to respond.
I am also publishing the responses we received to the consultation on Measures to Improve the Operation of the Northern Ireland Assembly. I am grateful to everyone who took the time to respond.
You can read the paper on draft legislation and the consultation responses.
Published 11 February 2013