Villiers pays tribute to fallen heroes at Belfast City Hall Remembrance Day Service
Secretary of State the Rt Hon Theresa Villiers MP laid a wreath on behalf of the Government at the Cenotaph at Belfast City Hall.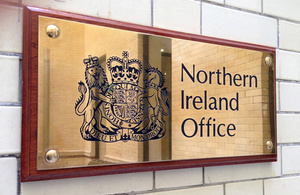 The Secretary of State said:
This is a particularly poignant service today as we not only remember all past service personnel who gave up their lives in two world wars to defend our freedoms but also soldiers from Northern Ireland who were killed or injured in more recent conflicts. Today the memory of Corporal Channing Day from Comber will be in the forefront of all our minds. My thoughts are also with the family and friends of Prisoner Officer David Black who have suffered such a terrible loss.
We must never forget all those who paid such a high price for our liberty and we owe them a tremendous debt of gratitude. Without their sacrifice the world would be a much darker place.
Published 11 November 2012