Press release
Villiers: Northern Ireland economy heading in right direction
The Secretary of State chaired a meeting of the Ministerial Task Force on Banking and Access to Finance in London today.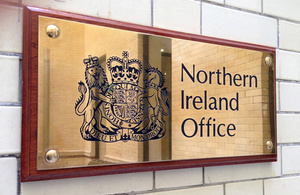 The Task Force considered the improving lending environment in Northern Ireland and met with the British Business Bank to discuss their upcoming event in Belfast.
Commenting after the meeting at the Northern Ireland Office's London headquarters, Rt Hon Theresa Villiers MP, Secretary of State for Northern Ireland, said:
Today the Task Force discussed how bank lending to SME businesses in Northern Ireland has been consistently improving – increasing some 15 per cent compared to the previous year. While it is clear that a 'new normal' in global lending now exists these figures provide evidence that Northern Ireland is heading in the right direction.
The work of the Task Force has helped to drive access to finance through greater British Business Bank engagement in Northern Ireland than ever before. The programmes now managed by the British Business Bank have facilitated more than £40 million of lending and investment to businesses in Northern Ireland – and the rate of lending is increasing. The British Business Bank event, 'The Future of Funding: Northern Ireland' being held in Belfast on 26 February, will showcase the products currently available to local businesses and plans for the future.
The Government's long-term economic plan is working for Northern Ireland, delivering improved levels of lending to business, 17000 more private sector employee jobs, and forecast growth of around 2% this year.
Also at the Task Force meeting was Northern Ireland Executive Ministers Arlene Foster MLA; and Simon Hamilton MLA.
Finance Minister Simon Hamilton said:
A key focus for me on the Taskforce has been to ensure that everything possible is being done to improve access to finance for local companies. It is encouraging that the lending environment is improving with more businesses successfully securing the finance they need to prosper and grow. However I recognise challenges remain for many of our firms. That is why I continue to work through the Taskforce to ensure that the benefits of national initiatives, designed by the Government for the whole of the UK, can have a positive impact in Northern Ireland.
Enterprise, Trade and Investment Minister Arlene Foster added:
It is encouraging to see the positive progress that has been made on the key access to finance issues identified by the Economic Advisory Group in March 2013. This reflects the effective engagement there has been between stakeholders in Northern Ireland, including government, banks and business representatives. In particular, I very much welcome the ongoing engagement we have had with the British Business Bank on a number of key issues, including the scope for a fund to address property overhang for NI businesses.
Published 2 February 2015