Press release
Villiers: NI must project reality of a forward-looking society
The Secretary of State urges everyone involved to ensure this weekend's parades are peaceful and that positive images of NI are not lost.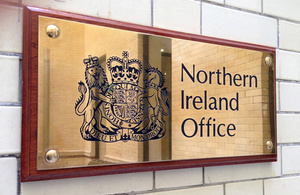 The Secretary of State held meetings in Belfast today with the British Business Bank, Invest NI and local banks and investors, aimed at encouraging greater participation by Northern Ireland's private sector in the British Business Bank's £300 million Investment Programme.
Commenting after the meetings at Invest NI's headquarters, Theresa Villiers said:
Last week we published a one year update on the Economic Pact, which set out how the Government and the Executive have been working with the Business Bank to ensure Northern Ireland businesses and entrepreneurs can benefit from national finance schemes. This close co-operation will continue and we hope more local businesses will gain from the available schemes.
This is an important time for the Northern Ireland economy, with a range of signs pointing to recovery. Access to finance for local businesses has increased 46% while the number of employee jobs is up by 16,000. And forecasters expect the economy will grow by 2.8% this year, more than many major economies. While we recognise that there is still a long way to go, this is clear evidence that the Government's long-term economic plan is working.
Like the rest of the UK, Northern Ireland is in a global race for investment and jobs and we need to be projecting the reality of a forward-looking, modern society were business can invest and flourish. So as we enter the parading season it is absolutely vital that the recent positive images of Northern Ireland earned through the Giro d'Italia, the G8 Summit and last October's International Investment Conference are maintained. That is why, along with others, I urge everyone involved in this weekend's parades to ensure they are both peaceful and lawful.
Published 9 July 2014