News story
Villiers marks 98th anniversary of the Battle of the Somme
The Secretary of State travelled to France to represent the UK government at the Somme anniversary commemorations.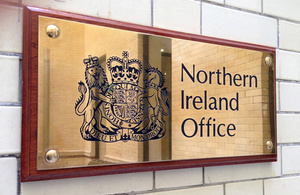 Wreaths will be laid by the Secretary of State at the Royal British legion service at Thiepval and the Somme Association services at the Ulster Tower and Guillemont. She will pay tribute to those soldiers from all three volunteer Divisions raised in Ireland; the 10th and 16th (Irish) Divisions, and the 36th (Ulster) Division, who made the supreme sacrifice on the battlefields of the Somme in 1916.
Given the significance of the Battle of the Somme across the whole of the island Ireland, the Northern Ireland Executive and the Irish Government will also be represented at high level at the ceremonies.
Ahead of today's ceremonies, Theresa Villiers said,
I am honoured to be in France to represent Her Majesty's Government in the services commemorating the Battle of the Somme. This is the second year in which I have had the opportunity to do so and on both occasions I have been deeply moved by the solemnity of the occasion. We will never forget those men from across the island of Ireland who gave their lives for our freedom during the First World War.
The Battle of the Somme has an indelible link with Northern Ireland given the scale of sacrifice from the 36th (Ulster) Division and the 10th and 16th Irish Divisions. Their attack has been described as one of the finest displays of human courage in the world, and so it is fitting that we pay tribute to them today.
I am grateful to organisations such as the Royal British Legion and the Somme Heritage Centre who work to ensure that the heroic contribution is always remembered.
Commemoration of the events of the First World War holds particular significance as we enter the centenary year of its outbreak. I am engaged with the Irish Government on a joint programme of events to mark the First World War and the wider decade of centenaries. I believe this decade offers an opportunity to learn about our shared history in a way which, through mutual respect and inclusivity, will help us continue on our path towards a shared future.
Meanwhile the Minister of State for Northern Ireland, the Rt Hon Andrew Robathan MP will take part in today's commemoration ceremony at Belfast City Hall and lay a wreath on behalf of the British Government. The Irish Minister for Trade and Development, Joe Costello will also be in attendance.
Later in the day Mr Robathan will attend an event in the Irish Embassy in London to mark the centenary of the 1914 Government of Ireland Act.
Published 1 July 2014