Views sought on public access to information on environmental decisions
A report setting out the measures the government has taken to implement the Aarhus Convention has been published for public consultation.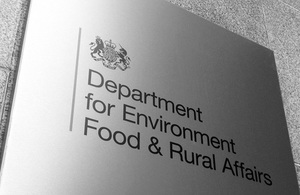 The convention outlines the rights of access to information, public participation in decision-making and access to justice in environmental matters for all British citizens. The draft report gives examples of the work the government has undertaken to comply with its obligations under this convention. Defra has launched a 30 day informal consultation to give people an opportunity to comment on the contents of the report.
Comments received from the public during this consultation period will be reflected in the final draft of the report to be submitted at the next meeting of the Aarhus Convention parties, which will take place in July next year.
Notes
The report can be found on the Defra website and is open for comments from Friday 15 October until Wednesday 17 November.
The UK became a member of the Aarhus Convention on Access to Information, Public Participation in Decision-making and Access to Justice in Environmental Matters, known as the Aarhus Convention, in May 2005. As its title suggests, the Aarhus Convention is based around public access to three key 'rights' in relation to environmental matters:

The right to information
The right to participation in decision-making
The right to access to justice
Published 15 October 2010