Vietnam to learn UK experience in developing world-class financial centre
UK experts are willing to share their expertise and experience to their Vietnamese counterparts in developing a modern financial district which can attract international financial institutions.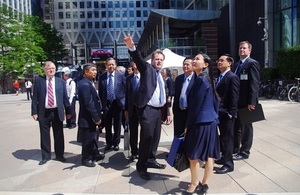 A delegation from the Ho Chi Minh City People's Committee headed by its Vice Chairman Mr Nguyen Huu Tin is in London, this week, to learn about the development of Canary Wharf. Mr Tin sees Canary Wharf as a role model for Thu Thiem, an area that is similar in shape and location in Ho Chi Minh City as Canary Wharf is in London. Thu Thiem is seeking to develop a financial district that will be sustainable as an economic development using international investment.
Thu Thiem, will also include a new business and retail area with schools, hospitals, sport and cultural facilities, which will play an integral role in the City's economic development and prosperity.
A group of five senior officials from the Thu Thiem Investment and Construction Authorities is also accompanying Vice Chairman Tin to the UK to learn from the Canary Wharf Group's experience. Their study tour is sponsored by the British Consulate General, HCMC, to stimulate the partnership between Thu Thiem Investment and Construction Authorities and Canary Wharf Group, in which the UK Company will help their Vietnamese counterpart to produce a concrete action plan to produce tangible outcomes that benefit the HCM City's development.
British Consul General Douglas Barnes confirmed that Canary Wharf Group's agreement to support HCM City is particularly significant, as the Group has been receiving similar requests from numerous mega cities around the world but Thu Thiem is the first that they have agreed to provide support.
Mr Douglas Barnes said:
We believe that Thu Thiem Investment and Construction Authorities (ICA) will learn a great deal from the expertise and experience Canary Wharf Group has to offer, whereby they can formulate an action plan to apply what they learn on the development of Thu Thiem. The Consulate looks forward to seeing continuous progress after the visit.
Published 15 July 2014