World news story
Fiona Woolf promotes Vietnam's export potential for UK companies
Thoughts of Fiona Woolf, the Lord Mayor of the City of London 2013 to 2014, prior to her visit to Vietnam to promote trade and investment ties.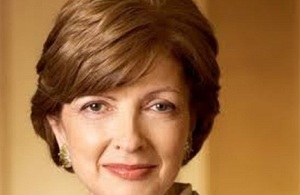 Fiona Woolf talks about Vietnam and its potential as a growth market for UK businesses:
I am delighted to have the opportunity to visit Vietnam during my mayoral year. As Lord Mayor, my role is to act as an ambassador for the UK's financial and professional services community and to promote stronger trade between our two countries.
This is a crucial moment for the UK's economic relationship with Vietnam, and there are many opportunities for us both to stimulate growth by working more closely together. Vietnamese import demand is expected to grow by around 250% this decade – faster than any other emerging power, and which is one of the reasons why it has been listed as one of UKTI's 20 high-growth markets, which have been prioritised given their particularly strong potential for UK businesses to work with local companies.
I am being accompanied by a delegation of leading UK businesses. The UK is home to many of the leading experts in key areas for growth in Vietnam, especially in the financial and professional services sector. Financial and professional services are important to the development of the wider economy, and although many UK firms already operate in Vietnam, creating stronger partnerships between the UK and Vietnam will allow more British firms to begin delivering these crucial services to Vietnamese customers and with Vietnamese partners.
However, the development of financial services access across the population is not the only way in which the UK can contribute to Vietnam's booming economy. UK firms possess both experience and capability of planning, structuring, financing and project managing major infrastructure projects, expertise that would be beneficial to major infrastructure projects in Vietnam. The UK has long been the partner of choice for PPP projects and with so many opportunities emerging particularly in Ho Chi Minh City with urban regeneration this is the perfect opportunity to deepen our engagement and work more closely together to ensure that these projects are completed on schedule and are well financed.
The region's thriving oil and gas sector is another area in which co-operation between UK and Vietnamese companies can bring economic benefit for both nations. Vietnam is south-east Asia's third largest oil producer and UK companies have the technological expertise needed to help the industry move forwards into a new era of sustainable oil production and renewable energy development.
Crucial to this partnership is an investment in skills. I know how important investing in education is to Vietnamese businesses as they look to develop in the future. There is huge potential for partnerships here, as the UK has a strong tradition in financial and professional education, training and qualifications (ETQ), covering a broad range of financial and professional services disciplines. UK based professional bodies can assist to develop enhanced capabilities across the financial and professional services sector. I am therefore proud to be presenting a Mansion House scholarship to offer a Vietnamese student the chance to study in London and build on the strong cultural ties that have already developed between our two nations.
Of course, if we are to properly exploit the talent of our human capital, we must ensure that we are giving the proper opportunities to all our human capital. As only the second female Lord Mayor in 800 years, I have spent a good part of my mayoral year supporting equality and diversity. To get the best ideas, the most dynamic organisations and the greatest application of intellectual capital, we must have diversity in every possible way. We must ensure that we do not discriminate against gender or background if we are all to meet our full economic potential.
I hope that my visit will bring many opportunities for Vietnamese businesses to deepen their ties with the UK business community and that together we will be able to cement the next generation of ties between our two countries.
Fiona Woolf will visit Vietnam with a City business delegation, 5 to 7 October 2014.
Published 1 October 2014