World news story
Vietnam Army officers complete English course in Ho Chi Minh City
Another eighteen Vietnamese military officers have graduated from a English Language training course funded by the UK Ministry of Defence.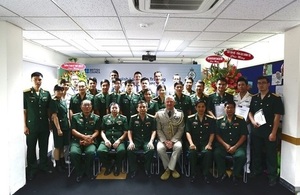 In a nine-month English Language training course since September last year, the officers of the Vietnam People's Army have received 474 hours of English training with the British Council, to become the latest of a total of 153 officers to participate in the UK Ministry of Defence's language training programme in Vietnam since its inception in Hanoi 5 years ago in 2012. This is the first time the course, provided by the British Council, has run in Ho Chi Minh City.
Speaking at the graduation ceremony on 24 May, the Deputy Head of the Vietnam Peacekeeping Centre Senior Colonel Luu Dinh Hien said:
The British council is the best location for students to study English language.
Meanwhile, the UK Defence Attaché to Vietnam, Group Captain Tim Below, said:
I am delighted to have expanded this programme from Hanoi to Ho Chi Minh City, and I am now especially eager to expand the selection to include officers of the Air Defence Air Force and the Vietnamese People's Navy on future courses. Subject to successful contract and officer student selection, I anticipate continuing this excellent British Council training for many years to come.
Some of the officers will be selected for professional and specialist training courses in the UK and other English-speaking nations, while others are expected to deploy as part of Vietnam's future UN peacekeeping forces across the world.
The Attaché continued:
Training is one of several strands of Defence Engagement on which our two nations work together. The UK Ministry of Defence invests in this programme to contribute to global stability, as Vietnam modernises its armed forces and seeks to play a greater part in international security.
As announced at the annual Defence conference in London last month, the most significant area of UK Defence Cooperation with Vietnam through 2016 and into next year is a programme of military experience exchanges which is already under way, including exchanges on security, military medicine, and peacekeeping operations.