World news story
Vietnam – an emerging market for Allen & Overy
Allen & Overy, a British law firm has opened two offices in Vietnam, sending a strong signal of interest and intent to develop their business here.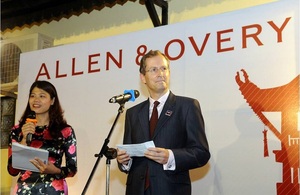 As Vietnam's economy continues to grow, new challenges and opportunities are emerging. Companies such as Allen & Overy (A & O) can help Vietnam turn the challenges into opportunities by bringing global best practice and expertise in areas of priority such as banking restructuring M&A processes, public-private partnerships and infrastructure development. A & O now has 42 offices in 29 countries worldwide.
Speaking at a reception to welcome the opening of A & O Hanoi Office in March, the British Ambassador to Vietnam Dr Antony Stokes said:
Trade and investment ties are an important part of the Strategic Partnership signed between the UK and Vietnam in September 2010, and it is good to see new companies like Allen & Overy establishing in Vietnam. I'm particularly pleased to celebrate this launch during the fortieth anniversary of diplomatic relations at a time when our bilateral relationship is going from strength to strength.
Setting up in Vietnam is part of A&O's emerging markets strategy, which contributed approximately half of the growth in revenues for the firm last year.
Alluding to the opportunities available, A & O Global Senior Partner, David Morley remarked:
As a firm, we can see that Vietnam is a leading foreign investment destination with huge potential.
The reception aimed to identify mutual interests that might create business opportunities for A & O.
Published 22 May 2013