Video message for Eid al-Adha 2012
The Deputy Prime Minister has recorded a video message to mark Eid al-Adha.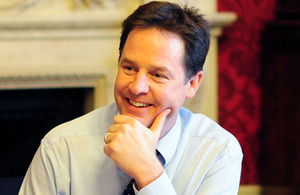 Deputy Prime Minister's message for Eid al-Adha 2012
Full transcript is below:
Salaam alaykum.
Eid al-Adha, the Feast of Sacrifice, is upon us once again. People of all faiths and none can all take this opportunity, alongside Muslims in Britain and around the world, to reflect on the sacrifices we can make for the good of our communities.
Sacrifices are being made all over the world, but our thoughts are particularly with the people of Syria. I recently went to Turkey, where I met with representatives of the Red Crescent. I saw first hand the vital work they are doing, and I announced that the British Government will provide extra support to help 10,000 Syrian refugees this winter.  This year, the Red Crescent are helping thousands of innocent people who have been caught in the fighting, and who stand to lose so much.
I look forward to continuing to work with the Muslim community in Britain and abroad on the most important issues we face, such as helping people through the economic crisis, protecting and creating jobs and bringing peace to Syria and Afghanistan.
I would like to wish you all a sincere Eid Mubarak.
Published 26 October 2012