Press release
Victims to be spared from harrowing court cases
The most vulnerable victims are to be protected from the trauma of appearing in court, Justice Secretary Chris Grayling announced today.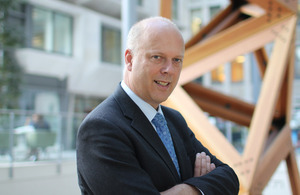 For the first time young and vulnerable victims, who have survived the most horrific crimes, will be offered the chance to avoid what is often a distressing and intimidating court experience by pre-recording both their evidence and any cross-examination for a later trial.
This new approach will be tested in three areas — Leeds, Liverpool and Kingston-upon-Thames — with the intention of rolling it out more widely if it proves a success.
Justice Secretary Chris Grayling said:
"The particularly hostile treatment of victims and witnesses in court has nothing to do with fairness or justice.
"It is simply not right that young and vulnerable victims are forced to relive the most traumatic experience they have ever had, often for days on end, when cross-examined in court.
"I am adamant we must put a stop to this, but without compromising everyone's right to a fair trial.
"So for the first time we are going to spare these victims from the aggressive and intimidating court atmosphere by making sure they can give evidence and be cross-examined before the trial starts."
There many provisions already in place to help victims and witnesses give evidence in court. Children automatically receive special measures — such as giving evidence from behind a screen or giving it via video link — and these are available to other victims and witnesses at a court's discretion. Specialist Registered Intermediaries are also available to help certain witnesses in court — such as those with learning difficulties, language issues or hearing problems.
But it is clear they do not go far enough. Although judges have the power to intervene to prevent overly aggressive cross-examination and character assassinations, there are growing instances of victims being left traumatised after court cases. There is no limit on the number of lawyers who can cross-examine a victim or witness, or on the amount of time they can be on the stand. Victims and witnesses can also be required to discuss graphic details of crimes such as sexual abuse.
So, working closely with the Judiciary, Her Majesty's Courts and Tribunal Service, the Association of Chief Police Officers and the Crown Prosecution Service, the Ministry of Justice is commencing Section 28 of the Youth Justice and Criminal Evidence Act.
This will allow all child, and the most vulnerable adult, victims and witnesses to escape being grilled in court, in front of an audience, by recording their cross-examination away from the highly-charged court environment. This would be included in a later trial.
It will also give those traumatised by crime the opportunity for counselling far earlier, and without the impact of having to re-live their experience all over again, as well as improving the evidence available when there is a time lag between charges being brought and a court case taking place.
Published 11 June 2013