Vicar found guilty of sham marriage scam
Three men – one of whom is a vicar - have today been found guilty of being behind a massive scam to organise hundreds of sham marriages in East Sussex.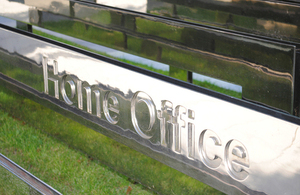 Reverend Alex Brown, Ukrainian national Vladymyr Buchak and immigration lawyer Michael Adelasoye were all convicted of conspiring to facilitate breaches of immigration law following an eight week trial at Lewes Crown Court.
Brown had earlier pleaded guilty to a charge of carrying out marriage ceremonies without banns of matrimony being published.
Biggest ever investigation
Their convictions follow one of the biggest ever investigations by the UK Border Agency's South East Region immigration crime team, a specialist unit of agency investigators and officers seconded from Sussex Police.
Between them, the trio were found to be involved in around 360 weddings at the Church of St Peter and St Paul in St Leonards-on-Sea, East Sussex, between July 2005 and June 2009. Reverend Brown officiated at all the ceremonies. In the vast majority of these cases the reason for the marriage was to assist applications for residency in the UK.
Eastern European nationals
Many of the weddings involved Eastern European nationals, who Buchak supplied through his contacts at factories and food processing plants around the south coast, and West Africans, whom Adelasoye would represent and process immigration applications for. Many of his clients were immigrants who had exhausted all other methods of staying in the UK.
Buchak and Adelasoye referred their clients to Brown's church, where the weddings would take place, usually at times where they would not be noticed by the regular congregation or church wardens.
Indeed following Brown's arrest, the parish church warden told police that she thought only around 20 weddings had taken place in the previous six months. In actual fact, it was around 170.
Suspicions were raised after UK Border Agency caseworkers noticed a high number of immigration applications involving people who had got married at the same church.
Detective Inspector Andy Cummins, from the UK Border Agency's south east region immigration crime team, said: 'This was a long and complex enquiry into what was an organised and sophisticated attempt to cheat the UK's immigration laws.'
Cases will be reviewed
Approximately 150 applications from those married at St Peter's for some form of leave to stay in the UK remain outstanding, and have been frozen, pending the outcome of this prosecution.
The beneficiaries who had already gained some form of leave to remain in the UK face having their cases reviewed in the light of this prosecution.
The trio are due to be sentenced on Monday 6 September.
Minister welcomes convictions
Damian Green, minister for immigration said the convictions 'send a clear message to anyone considering breaking our immigration laws that Britain is no longer a soft touch'.
He continued: 'We now have specialist teams of immigration and police officers working day in day out to tackle and prosecute people who commit this form of organised criminality.
'I have tasked the UK Border Agency with carrying out an intense period of enforcement activity over the summer to tackle the most problematic routes – bogus colleges and organised traffickers as well as illegal working and sham marriages.
'We are determined to create a hostile environment which makes it harder than ever for illegal immigrants to come to the UK and put untold pressures on our public services.'
Published 29 July 2010