Veterans' mental health helpline launched
Veterans with mental health problems will get targeted support from today with the launch of the Combat Stress Support Helpline, delivered by Rethink Mental Illness and funded by the Government.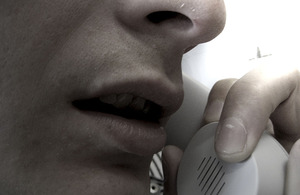 Health Minister Simon Burns today unveiled a new 24-hour freephone helpline number, 0800 138 1619, to help veterans and their families access expert advice from people trained and experienced in dealing with ex-servicemen and women and their often complex mental health needs.
The Government is giving £200,000 to fund the running of a one-year pilot of the helpline.
The helpline, announced in October 2010, was supported by Dr Andrew Murrison in his review into the provision of mental health services for veterans. The Department of Health has nominated the charities Combat Stress and Rethink Mental Illness, both leaders in their respective fields of supporting veterans and those with a mental illness, to run the service together.
With their combined expertise, the helpline will provide:
• round-the-clock support for veterans;
• diverse ways to access mental health support including advice via telephone, text, email and websites;
• support to veterans' families, whose lives can be affected as a result of mental health problems, with improved support to help them to access mental health services in their local area; and
• assistance in accessing further advice on other social problems affecting veterans, including housing and employment advice.
Andrew Robathan, the Minister for Defence Personnel, Welfare and Veterans, said:
The mental health of our personnel and veterans is a top priority of the Government, and it is right that we do all we can to support them and their families. The launch of this 24-hour helpline, specifically designed to support veterans, is further proof of the close working relationship between this country's charities and Government and allows those with the greatest expertise to help those in need whatever the hour.
Dr Murrison added:
It is great to see that with the help of the Department of Health, Combat Stress and Rethink this 24-hour helpline is being launched today. I am confident that it will give ex-servicemen and women the support they not only need but deserve, given the sacrifices they have made for this country.
The launch of the new helpline is supported by a range of psychological therapies that veterans experiencing mental health problems will be able to request to help them improve their mental health and well-being.
The £200,000 forms part of an additional £7.2m investment made available in the Government's 'No health without mental health' outcomes strategy.
Alongside the helpline, the Department of Health is also working with the Royal College of General Practitioners to develop training tools for GPs to better recognise the needs of veterans and provide the best support.
The helpline will be delivered by Rethink Mental Illness using a combination of permanent and volunteer staff to man the phones 24-hours-a-day, and will have significant support from Combat Stress.
Published 11 March 2011