News story
Vehicle tax Direct Debit
Customers who need to buy vehicle tax can now use our Direct Debit scheme.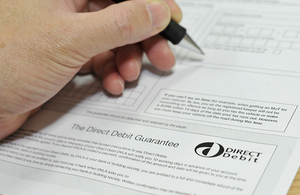 Paying vehicle tax by Direct Debit offers you the opportunity to pay for your vehicle tax in 1 of 3 new ways:
6 monthly (a one off payment)
Annually ( a one off payment)
Monthly ( total spread over 12 payments annually)
The first payment will not be taken before the 1st day that the vehicle tax is due to start. You won't be asked to make a payment at the time you arrange the direct debit.
We're unable to set up Direct Debits in accounts that require dual signatories. You'll be asked to confirm that you have the authority to set up a Direct Debit, that you're the only person required to authorise Direct Debits from that account. A Direct Debit can be set up on a joint account where only one signature is required to transact.
Why delay…set up your vehicle tax Direct Debit today!
Pay by Direct Debit for your vehicle tax.
Published 22 October 2014
Last updated 14 November 2014
+ show all updates
Information added about joint accounts.
First published.