News story
VE Day 70th anniversary: Nick Clegg message
The Deputy Prime Minister marked the 70th anniversary of VE Day, paying tribute to the bravery of those who fought in the Second World War.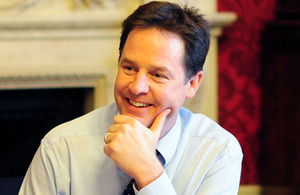 Deputy Prime Minister Nick Clegg said:
Today marks the 70th Anniversary of VE Day, the official end of World War 2 in Europe.

After 6 long, hard years of fighting, Germany's surrender was the news that millions of people across the world had been waiting to hear. In Britain, family, friends, neighbours and even complete strangers came together to celebrate – with a party on practically every street.

Of course, for many, this national joy was tinged with personal sadness as they grieved for the loved ones they had lost. For some, the War would continue for several months more in Asia.

But VE Day showed that the Allied Forces' victory in World War 2 was now certain. Their fight had not been in vain. As Winston Churchill said to the crowds gathered in London, 'God bless you all. This is your victory… Everyone, man or woman, has done their best.'

Today, 70 years on from VE Day, we pay tribute to the bravery of those who fought to secure our freedom, the sacrifices of those who were injured or lost their lives, and the grit and determination of the people at home to keep going even in the darkest days of the War.

Finally, we recognise and celebrate again the peace and opportunities that their courage in the face of tyranny has given us.
Published 7 May 2015