News story
VAPC support for the 2015 Poppy Appeal
London Veterans Advisory and Pensions Committee (VAPC) members to be amongst those helping on Poppy Day.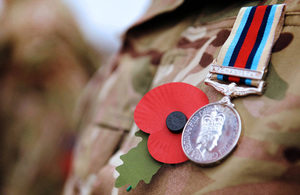 Representatives of London VAPC's Advocacy and Assistance groups will be among the 2,000 volunteers helping with Royal British Legion's' London Poppy Day on Thursday, 29th October, 2015
They'll join those representing the Royal Navy, British Army, and Royal Air Force plus ex-service and civilian supporters to cover 49 tube stations, mainline stations and various attractions in central London and Canary Wharf. There will also be 15 military bands and many celebrities from stage and screen taking part.
Collecting will begin at 7am and finish at the end of the rush hour. In 2014, £1.25 million was collected.
The event is supported by London Transport, Lloyds and the train companies while Barclaycard enable the use of credit and debit cards at the collection points.
Published 16 October 2015