News story
Vaizey sets out way forward for Video Games
Mr Vaizey along with skills minister John Hayes welcomed an independent review of education and training in the UK games sector to be spearheaded…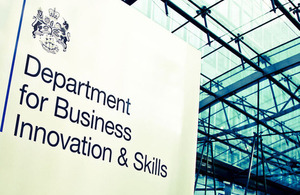 Mr Vaizey along with skills minister John Hayes welcomed an independent review of education and training in the UK games sector to be spearheaded by Ian Livingstone OBE, Life President of Eidos, and carried out by NESTA and Skillset.
Speaking at the Develop video games conference this morning, Mr Vaizey set out a further series of Government measures aimed at supporting growth in the industry. These included:
the formal launch of a £2m fund to help small businesses create video games prototypes. The fund will be managed by the University of Abertay in Dundee which will welcome applications from eligible businesses across the UK. This new help is the first offering from the new video games centre of excellence being created at Abertay. UK Government is investing £2.5m in this project but with regional and other funding investment totals around £8.5m

the agreement that Ian Livingstone will build on his role as Chair of the Skillset Games Council and act as a skills champion for the video games sector, working with Government to help drive forward work to produce a better skilled workforce for the sector.
Mr Vaizey also set out how the recent Budget will help the games industry and welcomed trade bodies Tiga and ELSPA's announcement this week that they would be working together to review tax support for the games sector.
The Minister commented:
"Government recognises the difficult challenges faced by the UK video games industry in the wake of a new economic climate. It is an industry that has real potential to create the high quality jobs of the future that will be so important as we recover from the recession.
"We need to invest in talent that will ensure the UK remains at the forefront of games creativity. That is why it is important to focus on skills and on giving small companies the support they have been telling us they need to help them take forward innovative new games concepts. These small and start-up companies will play an important part in enhancing the international competitiveness of our games industry, whilst showing the UK is open for business."
Notes to Editors
Over 3 years total project costs for Abertay University's new video games centre of excellence are around £8.5m**. **These costs are being met with a £2.5m grant from BIS, aid from the European Regional Development Fund and substantial funding from the University of Abertay itself. The centre is scheduled to open formally later in the year and will include prototyping lab and quality assurance space.

The £2m fund launching today is the first output from the centre of excellence project. Abertay are inviting applications from eligible businesses from around the UK and expect to make individual grants of between £10k and £25k to help small companies and micro businesses with the production of video games prototypes. They will also offer undergraduates and recent graduates the opportunity to work on games development projects using Abertay's very successful "Dare to be Digital" model.

Contacts from Abertay University will be attending the Develop Conference and available to give more information on the prototype fund. The contact is Paul Durrant tel: 07966 170627

BIS' online newsroom contains the latest press notices, speeches, as well as video and images for download. It also features an up to date list of BIS press office contacts. See http://www.bis.gov.uk/newsroom for more information.
Notes to Editors
Contact Information
Name BIS Press Office Job Title
Division COI Phone
Fax
Mobile
Email NDS.BIS@coi.gsi.gov.uk
Published 14 July 2010