Vaccine summit saves four million lives in four hours
The UK spearheaded a global effort to vaccinate a quarter of a billion children by 2015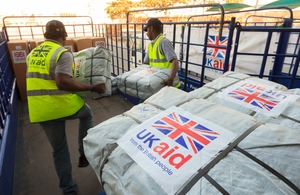 ---
Latest news
Video: Hear from Bill Gates, Jemima Khan and other key donors, supporters and campaigners at the vaccine summit
13 June: British aid to vaccinate a child every two seconds
UK aid will help vaccinate a child in the developing world every two seconds for the next five years, the Prime Minister announced today.
Over 80 million under-fives living in some of the poorest countries in the world will be vaccinated against killer diseases like pneumonia and diarrhoea with the help of British aid as part of a broader collective effort.
Opening a four-hour push to save lives hosted by David Cameron, Ellen Johnson-Sirleaf (President of Liberia) and Bill Gates (Bill and Melinda Gates Foundation), the Prime Minister called on other donors to dig deep in order to reach the target of vaccinating at least a quarter of a billion children in the next five years in order to save the lives of four million children.
Watch again: see a video of the press conference as it happened
9 June: Government hosts business breakfast to boost vaccines
Andrew Mitchell and George Osborne today called on businesses to join the drive to immunise 250 million children in the developing world against childhood diseases.
At a breakfast in Downing Street, businesses were invited to join the GAVI Matching Fund for Immunisation, a three-way matching programme which aims to attract funding from corporations, and from their customers or employees.
The meeting was attended by leading global mining company Anglo American and charitable foundation Absolute Return for Kids (ARK), both of whom made pledges to GAVI to fund immunisations.
The UK Government will match donations to an agreed limit, potentially raising £100 million over the next five years to pay for vaccinations for children against diseases including pneumonia, Hepatitis B and rotavirus, which causes potentially fatal diarrhoea.
---
Background
UK drives global push to vaccinate 250 million children
The British Government is spearheading a global effort to vaccinate a quarter of a billion children by 2015. The drive is set to save the lives of four million children across the developing world.
In partnership with the Global Alliance for Vaccines and Immunisation, the government is co-hosting a vaccine summit on Monday 13 June, calling on international partners to join the UK and donate to its cause.
The Global Alliance for Vaccines and Immunisation - known as the GAVI Alliance - is a health partnership set up to increase access to immunisation in the world's poorest countries. Since 2000, the GAVI Alliance has helped vaccinate over 288 million children in 72 developing countries and saved more than five million lives.
Representatives from donor countries, developing nations, philanthropic organisations, civil society and vaccine manufacturers will come together at the summit to make the contributions needed to roll out vaccines which will protect against the two biggest killers of small children - pneumonia and diarrhoeal disease.
The UK is prepared to significantly step up its contribution to the GAVI Alliance, but needs other donors to do the same to meet the funding challenge and make sure hundreds of millions of children get the vaccinations they need.
Development Secretary Andrew Mitchell, who is chairing the event, said:
"For the price of a cup of coffee you can vaccinate a child against five of the major childhood killers.
"Every day the lives of 7,000 children are saved by vaccines. Vaccinations are proof positive that well spent aid save lives. They are one of the best and most cost effective health interventions that money can buy."
---
Real life stories
In pictures: vaccines offer a simple and cost effective way to save lives in Ethiopia, Pakistan and Sierra Leone Case study: Mohamed is about to get the pneumococcal conjugate vaccine. Although he doesn't know it, this vaccine could save his life
Video: vaccinating children and saving lives with GAVI Alliance in Sierra Leone Video: Andrew Mitchell sees the work of the GAVI Alliance to immunise children and babies in Pakistan
Published 13 June 2011