World news story
Vacancy for Migration Coordinator in Albania
The British Embassy has a full-time vacancy for a Migration Coordinator working in the Political section of the Embassy.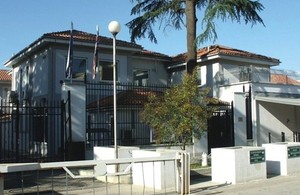 The British Embassy has a full-time vacancy for a Migration Coordinator working in the Political section of the Embassy. The main purpose of the job will be to contribute to Embassy work on migration issues, in particular on the repatriation of failed asylum seekers, victims of trafficking and on prisoner transfers. The jobholder will be employed full-time, initially on a 12-month fixed term contract with the possibility of future employment subject to review. The successful candidate will be expected to start during July.
Duties and responsibilities include:
Develop and manage Embassy projects on migration funded by the Foreign and Commonwealth Office Returns and Repatriation Fund.
Coordinate return of Albanian and British prisoners under bilateral Prisoner Transfer Agreement (PTA), in liaison with Albanian and UK Prison Services and Ministries of Justice.
Development of UK/Albanian relationship in field of prison reform. Organisation of exchanges, visits and projects in coordination with Ministry of Justice, Prison Service and Probation Service. Monitoring and reporting on developments in Albanian government policies in prison reform/probation/electronic monitoring fields.
Researching and reporting on socio-economic and legal developments relevant to migration trends, including the "blood feud" phenomenon.
Providing support to immigration and asylum caseworkers in the UK, including background information and briefing and casework.
The successful candidate will need to be educated up to degree level. You will be expected to have a good understanding of Albanian politics, with a strong focus on rule of law and the judiciary. You will have some experience of working with NGO's, governmental and multilateral institutions. The job may involve some regional and UK travel on official duty.
Key required skills:
Excellent written and spoken English
Understanding of Rule of Law and justice system
Project and budget management experience
Experience of reporting and analysis
Anyone interested in this position should send a CV and a covering letter outlining their relevant experience and suitability for the job. The letter and CV should be placed in a sealed envelope and addressed to 'Migration Coordinator Vacancy, c/o the Corporate Services Manager, British Embassy', and must reach the Embassy by 14:00 on Wednesday 3 July 2013.
We are sorry but we are unable to acknowledge all applications for this vacancy. Short-listed candidates will be invited for interview as soon as possible after the closing date.
See also: Vacancy for Military and Migration Assistant in Albania
Published 25 June 2013