World news story
Using the Radio to bring Social Change in Afghanistan
A guest blog from Alison of the STAGES project about "New Home,New Life", a radio drama by the Afghan Education Production Organisation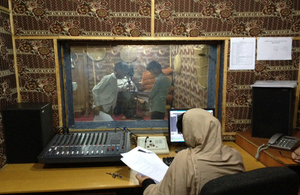 In the background the chickens are clucking. Gul Makai calls out to Abida to ask where she's going. Abida says that she's on her way to the Upper Village community development council meeting to talk about establishing classes in their village. Gul Makai reminds Abida how much she is appreciated by the community because she always advocates for women's rights.
Abida, Gul Makai and the other residents of Upper Village are, like most Afghans, concerned about corruption, worried about clean drinking water, and anxious about their children's future. But, unlike most Afghans, Abida, Gul Makai and all their Upper Village neighbours aren't real. They are characters on "New Home, New Life", a long-running radio drama produced by the Afghan Education Production Organisation (AEPO). Now, AEPO is working with STAGES – a project funded by UK Aid through the Girls Education Challenge – to develop storylines which focus on education and to encourage more girls to go to school.
AEPO has been broadcasting positive radio dramas since 1994, when it was established in Pakistan by the BBC World Service to develop radio programmes for Afghan refugees living in Pakistan. AEPO returned to Afghanistan in 2002, and in 2012 it became an independent organisation (although it continues to work with BBC Media Action and its programmes are broadcast on the BBC World Service network). "New Home, New Life" and other AEPO programmes reach millions of Afghan listeners every week.
At the STAGES (Steps towards Afghan Girl' Educational Success) project, we feel very fortunate to have AEPO as one of our project partners. The STAGES project focuses on establishing classes in communities where there are no schools and building community support for girls' education. AEPO is developing radio and mobile voice messages focused on girls' education, and storybooks developed by AEPO are the foundation of our school and class libraries.
When AEPO broadcasts, Afghanistan listens: we recently surveyed over a thousand households in the sixteen provinces where we're working and found that 67 percent reported that at least one person in the household listened to "New Home, New Life". Our survey also found that families who don't send their daughters to school are more likely to have a radio. This makes AEPO's programmes particularly effective for reaching these families.
At AEPO's recent 20th anniversary celebration for "New Home, New Life", Rukiya, a listener from Paktia province, talked about how listening to programmes about families that don't send girls to school helped her convince her neighbours to enrol their daughters in primary school. We were proud to hear Rukiya's account because this was one of the storylines that AEPO developed for the STAGES project. We're directly working in 907 communities, but AEPO's radio messages enable the project to share the girls' education message with an audience of millions in areas where we aren't working.
We're especially looking forward to piloting mobile phone messages developed by AEPO to promote girls' education. Our parents, teachers and school management committee members will receive mini dramas with the familiar voices of "New Home, New Life" characters. The first message has little Malalai crying because she wants to go to school. Her father explains, laughing, that only boys go to school and asks her what a girl would do with pens and a school bag. Malalai, sobbing, asks her father: "Why can't girls go to school?" The message then invites listeners to reflect and ask if they have given both their sons and daughters education opportunities.
As a girls' education project, we're especially proud of AEPO's commitment to ensuring that women are positively represented both in their broadcasts and their organisation. On "New Home, New Life" half of the characters are female and many of the female characters, like Abida, are leaders in their community. Not only that, but half of the "New Home, New Life" writers are female. That's quite exceptional in Afghanistan, where conflict and tradition mean that few women have the skills they need for the workplace. We're working towards changing that.
Published 22 December 2014
Last updated 22 December 2014
+ show all updates
Updated.
Updated.
First published.