News story
Using experts to analyse and measure problems: apply for support
Businesses can apply for a share of £4 million in consultancy and support to help them solve analysis and measurement problems that could improve productivity.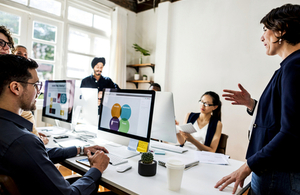 The National Physical Laboratory, the National Measurement Laboratory at LGC, the National Engineering Laboratory and the Science and Technology Facilities Council have up to £4 million to invest in UK businesses to solve analysis and measurement problems.
The competition aims to help businesses to solve tricky and sometimes long-running technical issues affecting existing products and services by giving them access to some of the UK's top scientists and national measurement institutes.
It is the second in a series called 'analysis for innovators', run by Innovate UK.
Successful applicants will get free consultancy on how to approach their problem and information on how to get funding to work on a solution with a relevant funding partner.
Solving existing problems
The competition aims to help businesses from a wide range of technology areas to solve problems that:
are related to the measurement or analysis of some quantities or properties of an existing process, product or service
are not effectively solvable by simple 'off the shelf' methods or techniques
Competition information
the competition opens on 5 March 2018, and the deadline for submissions is midday on 4 April 2018
it is open to UK businesses
we expect free consultancy sessions to start in May 2018
we expect follow-on projects to typically last up to 12 months and to have project costs of up to £250,000
details on funding options will be given at a series of roadshows in February and March
a briefing event will be held on 7 March 2018
Published 13 February 2018