World news story
Uruguayan diplomats attended English course "Diplospeak"
The Ambassador presented the diplomats with certificates after successfully finishing the course.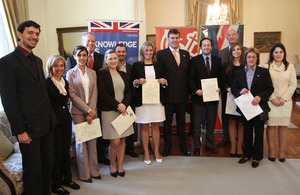 This cooperation project between the British Embassy in Montevideo and the Artigas Institute at the Ministry of Foreign Affairs, was implemented by The Anglo Institute.
For the third consecutive year, civil servants from the Ministry had the opportunity to take an English course specifically designed for diplomats.
Published 29 November 2013