World news story
Uruguay and UK signed Tax Information Exchange Agreement
The TIEA was signed in London on 14 October.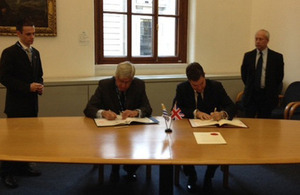 A Tax Information Exchange Agreement (TIEA) between the United Kingdom and Uruguay was signed by Mr. David Gauke, Exchequer Secretary to the Treasury, and Mr. Julio Moreira Morán, Uruguayan Ambassador to London.
The Agreement will enable the UK and Uruguay to exchange information to the Organisation for Economic Co-operation and Development, OECD, and to international tax standards to ensure that the right amount of tax is paid in each country in the future. This document is part of a policy adopted by G8 countries this year, under the UK presidency.
The Agreement will come into effect as soon as each government has completed the necessary procedures to give effect to it under its domestic laws. The text of the TIEA can be accessed on the HM Revenue & Customs website.
Published 15 October 2013