News story
Urban living: new partnership to realise vision for future cities
Innovate UK and the research councils are to work together to address the complex challenges and opportunities facing urban living.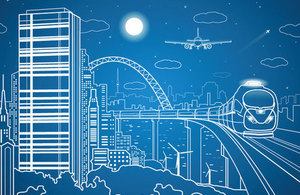 Jo Johnson, Universities and Science Minister, has announced a new Urban Living Partnership that will bring together researchers, innovative businesses and local authorities to help build successful 21st century cities.
The partnership will enable integrated research and innovation that will address the challenges faced by urban areas. It will also help these areas realise their visions for the future.
Jo Johnson said:
As a One Nation Government, we are backing our great cities and towns, ensuring they drive economic growth, embrace innovation and have resilient infrastructure. This unique partnership will harness the UK's world-leading strength in research and I encourage all aspirational cities to make their case.
This is the first time Innovate UK and all 7 UK research councils have come together to address the challenges and opportunities of urban living.
Project co-chair Dr Mike Pitts commented:
Significant previous investment by the research councils and Innovate UK has built great strength across a broad range of research areas related to urban living. This partnership will combine that strength with dynamic local authorities, innovative businesses and major service providers to create the sustainable, successful and desirable city living that we all want for ourselves and future generations.
Professor Rick Rylance, chair of Research Councils UK, said:
By bringing together capabilities across RCUK and Innovate UK, the partnership will open up new opportunities for creativity, innovation and co-design in responding to the challenges of future urban living.
£2 million for 5 pilot city projects
The first step in the programme is an investment of £2 million to create up to 5 pilot city projects. A consortium of researchers, local authorities, service providers and businesses will lead each project. Each team will also include engineers, ecologists, economists and heritage experts.
These teams will take a 'whole city' approach. They'll use their diverse expertise to identify, understand and address key interconnected challenges. These challenges range from community health and crime to social inclusion and employment.
The partnership will award funding of up to £400,000 to support each pilot project to conduct a 'diagnostic' phase starting in April 2016 and running for up to 18 months. The call is open now.
Published 23 September 2015