Urban challenges in Malaysia: apply for business funding
UK businesses can apply for a share of up to £3 million to work with Malaysian partners on solving urban challenges in the country.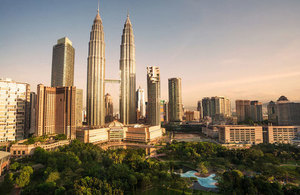 Innovate UK has up to £3 million to invest in innovative business research projects addressing urban mobility, waste and water management in Malaysia.
This competition is jointly funded by PlatCOM Ventures, Malaysia, which will support Malaysian partners in the projects. It is being run as part of the UK–Malaysia Newton-Ungku Omar Fund.
The UK government Newton Fund uses science and innovation partnerships to promote economic development and social welfare of partner countries. This aims to boost economic development and have a positive social or environmental effect on the wider Malaysian society, in line with official development assistance (ODA) criteria.
Meeting the challenge
Malaysia has experienced intense growth over the last few decades. It needs to deal with traffic congestion, reduce the amount of waste going to landfill, reduce the amount of water lost in its distribution systems and deal with urban flooding caused by heavy rainfall.
Projects should tackle one or more of the following challenges:
urban mobility
urban waste
urban water management
They must aim to boost economic growth and have a postive social or environmental impact on wider Malaysian society.
Competition information
the competition opens on 2 May 2017, and the registration deadline is midday on 30 August 2017
projects must involve at least one UK company working together with one Malaysian SME
we expect projects to range in size from £300,000 to £500,000 on the UK side and to last 2 years
businesses could receive up to 70% of their project costs
funding for UK participation will be by Innovate UK. Malaysian businesses will be funded by PlaTCOM Ventures, supported by the Malaysian Innovation Agency and SME Corp Malaysia
a briefing event for potential applicants will be held on 11 May 2017
Published 12 April 2017