News story
Update on the implementation of the Fee-Paid Judicial Pension Scheme
Statement to inform former and current fee-paid judicial office holders of steps to introduce a fee paid judicial pension scheme.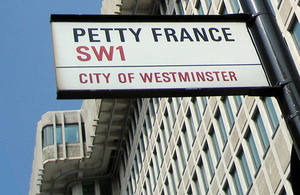 The Ministry of Justice's (MOJ) legal representatives have today written to the Employment Tribunal with an attached witness statement which provides an update in relation to the implementation of the Fee-Paid Judicial Pension Scheme (FPJPS). The statement confirms the progress which has been made since MOJ's previous update of 21 January 2016, and that the implementation of the scheme is now likely to take place on or before 1 April 2017. In summary, the statement explains that:
Work has continued in drafting the regulations to implement FPJPS.
It has become clear that drafting the regulations is proving more complex than was originally anticipated. The main reason for the delay is due to the complexity of drafting the parts of the regulations which will deal with AVCs, added years and added spousal and civil partner benefits ('added benefits'). These parts of the regulations are also required to address both retrospective and future added benefits.
MOJ has committed to increasing both the policy and legal resource and expertise available to this project. Even with this additional resource MOJ has concluded that it is unlikely to meet the previous implementation deadline of 1 December 2016.
MOJ has considered other alternatives to deliver FPJPS in stages, but has concluded that this is not feasible.
As detailed in the previous update, there will be a consultation on the draft regulations, and the final regulations will be subject to Parliamentary approval.
Subject to the consultation and Parliamentary approval, the MOJ will now implement FPJPS on or before 1 April 2017.
As set out in the previous update, interim payments on account of pension had been extended to eligible judges, for the period up to 31 March 2017. Practical preparations for the implementation of FPJPS are going well and will continue. As a result it is hoped that any delay between the transfer from interim payments to payments under FPJPS will be minimal.
Any eligible judges who retire between now and 31 March 2017 can apply for an interim payment by contacting the MOJ at judicialpayclaims@justice.gsi.gov.uk indicating when you intend to retire.
Published 4 August 2016