News story
Upcoming competition launch
The Defence and Security Accelerator (DASA) will be launching a new competition later this year.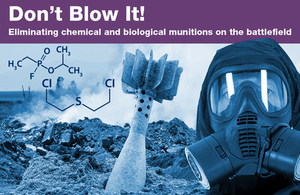 It was announced at the 21st annual Chemical Weapons Demilitarisation Conference in London this week, that the Ministry of Defence and US Department of Defense will be launching a DASA competition to seek innovative technical solutions to the safe destruction of small caches of munitions found on the battlefield.
More details will be made available over the summer with a formal launch scheduled for September.
Published 25 May 2018