Unusual discovery at The National Archives
A small quantity of heroin has been unearthed in an 80-year-old file at The National Archives - the latest unusual discovery at the archives.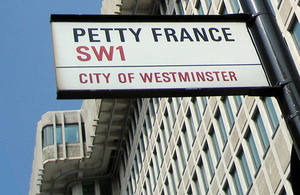 The discovery was made after several sachets of a mysterious powder were found in a sealed pouch inside a Foreign Office file dating from 1928.
The file, which originated from the British Consulate in Cairo, detailed a criminal assault court case involving possession of narcotics. It had been ordered by a researcher in The National Archives' reading rooms in Kew, who found the sealed pouch.
The pouch was taken to the Collection Care Laboratory to be opened and analysed by conservation specialists, who confirmed the powder was heroin.
Jeff James, Director of Operations and Services at The National Archives, said:
'From time to time unusual and occasionally valuable objects are unexpectedly discovered within our vast collection of 11 million records, however finds of this nature are extremely rare.
'Whilst it highlights the diversity of our collection and its relevance to our nation's history, this discovery also hints to more mysteries and untold tales yet to be uncovered, hidden deep within the archives'.
Other unusual items found at The National Archives:
Mummified rat
A favourite with school groups visiting The National Archives' museum, a mummified rat skeleton was found amongst fragments of parchment solidified into a lump.
Red Pyjama Suit
In 1932, police raided a private ballroom in London where arresting officers described a scene of men dancing together, being intimate and wearing women's clothing and make-up. A red silk pyjama suit was produced as evidence in the court case and it is believed it was worn by one of the arrested men.
Death Mask of Dr. John Yonge, c19th century
The plaster, polychromed and partially glazed Death Mask of Dr John Yonge, Dean of York and the 34th Master of the Rolls from 1508 to 1516. This title was derived from his role as custodian of the 'rolls', which formed part of the archive of Chancery.
The National Archives is a government department and an executive agency of the Ministry of Justice. As the official archive of the UK government and England and Wales, it looks after and makes available to the public a collection of historical records dating back over 1,000 years, including records as diverse as the Domesday Book and MI5 files. 
Follow the news @UkNatArchives.
Published 20 December 2011