News story
University of Edinburgh to help spread technology across Africa
UK Government funding helps to make latest agricultural technology available in Africa.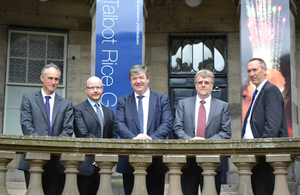 A University of Edinburgh research group will receive £10.8 million from the UK's Department for International Development (DFID) to help make the latest agricultural technology available across 10 African countries, Scottish Secretary Alistair Carmichael announced today.
Research Into Results (RIR), a wholly-owned subsidiary of the University of Edinburgh, will make the latest agricultural research and innovation available to budding small businesses in ten countries in East and Southern African. RIR will then mentor these businesses to help them grow and find private investment.
RIR has already worked on research that has delivered pest-free crops, improved crop storage systems and a mobile phone app which tells farmers the best time to plant their crops.
The Social Enterprises for Economic Development (SEED) programme is designed to turn this kind of promising research into commercially-viable technology. It has the potential to make over half a million farmers become more efficient, helping them feed their families and work their way out of poverty.
During a visit to the University of Edinburgh today, Mr Carmichael said:
Everyone associated with the Research Into Results initiative should be very proud of the excellent work this project builds on.

This substantial support from DFID together with the skills and networks of the University of Edinburgh and H20 venture partners will go a long way to improve the efficiency of small-holder farmers in Africa, provide them with technology and most importantly transform the lives of many people living in some of the poorest countries in the world.
Dr Andy Frost, Director of Research Into Results, said:
The SEED Programme will develop technology-driven social enterprises whose products and services increase the profitability of smallholder farmers.

There is a substantial unmet need for the ambitious social enterprises in the Africa. Institutions, NGOs and local entrepreneurs lack the skills and experience to build large-scale investible businesses; on the other side, venture capital in the region lacks quality investment deal flow.

SEED is an ambitious programme, it aims to be a game-changer, to create viable social enterprises for the benefit of smallholder farmers and by so doing provide robust evidence on the effectiveness of social enterprises as a vehicle to get past research investment into use, at scale.
DFID will provide RIR's Social Enterprises for Economic Development (SEED) programme with £10.8 million over 6 years.
The SEED programme is designed to enhance the flow of investment-ready proposals reaching investment funds and banks. By working with a range of partners SEED will develop new enterprises to help take technology to market, overcoming the investment gap that can stop promising research turning into valuable technology.
Published 18 August 2014