World news story
University of Edinburgh Principle visited Ecuador
Professor Sir Timothy O'Shea, Principal of the University of Edinburgh, will visit the country seeking opportunities for mutual cooperation.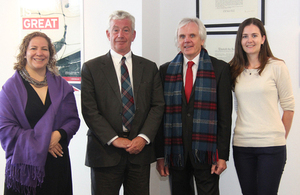 Professor O'Shea and the Director of the Office for the Americas at the University of Edinburgh, Dalinda Perez Alvarez, visited Ecuador on 21 and 22 July 2014. They had a welcome meeting with the Ambassador Patrick Mullee and his daughter Kate, who is graduated from the University of Edinburgh.
The purpose of their visit was to meet with the highest authorities and institutions of the Ecuadorean government and with several of the country´s universities.
The University of Edinburgh places high importance on their relationship with the Latin American region, and Ecuador is one of their countries of priority interest when seeking opportunities and mutual collaboration.
Published 28 July 2014