News story
University funding confirmed for 2012-13
Secretary of State for Business Vince Cable said: "It is important that we deliver a stable and sustainable funding environment for universities…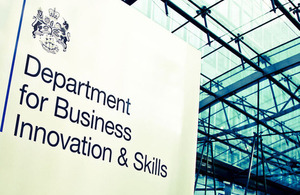 Secretary of State for Business Vince Cable said:
"It is important that we deliver a stable and sustainable funding environment for universities as our reforms bed in. This grant letter confirms the funding levels we signalled last year.
"This year also sees the introduction of the new National Scholarship Programme. This will play a critical role in ensuring our universities attract a more diverse range of students."
Minister for Universities and Science David Willetts said:
"Our universities play a vital role building the skills and knowledge Britain needs to grow. That is why we have protected HEFCE funding for research and why, despite difficult public finances, we expect the total funding available to the sector could increase by 10 per cent in cash terms as a result of our reforms.
"We are increasing the total funding available to the sector - with a projected rise from £9.3 billion in 2011-12 to £9.8 billion in 2013-14 - and our reforms will enable successful universities to expand if they wish to do so. However it is also essential that the sector works collaboratively to lower their costs. Changes to the VAT treatment of shared services, lowering the cost of procurement and work to reduce the burden of data collection give universities the chance to prioritise more of their resources for teaching and research."
Notes to editors
1. The grant letter has been published online at http://www.bis.gov.uk/assets/biscore/higher-education/docs/L/letter-he-funding-25-jan-2012.
2. HEFCE is a statutory non-departmental body created under the Further and Higher Education Act 1992. HEFCE funds teaching and research in 131 universities and HE colleges and higher education courses in 128 further education colleges in England.
3. BIS's online newsroom contains the latest press notices, speeches, as well as video and images for download. It also features an up to date list of BIS press office contacts. See http://www.bis.gov.uk/newsroom for more information.
Notes to Editors
Contact Information
Name BIS Press Office Job Title
Division COI Phone
Fax
Mobile
Email NDS.BIS@coi.gsi.gov.uk
Name Michael Gibbs Job Title
Division Department for Business, Innovation and Skills Phone 020 7215 1635 Fax
Mobile
Published 25 January 2012