Press release
University application rate at record high for 18 year olds
UCAS figures show that overall univeristy applicant numbers are up by 4%, to 580,000, only slightly below the record level of 2011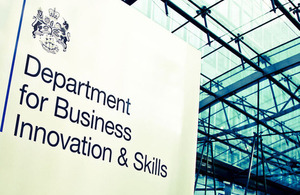 UCAS figures out today (31 January 2014) show that overall applicant numbers are up by 4%, to 580,000, only slightly below the record level of 2011 (583,350).
The application rate (which takes account of population changes) for English 18 year olds has increased to the highest ever level (34.8%).
The application rate for disadvantaged young people from England has also increased to the highest ever (20.7%). This means that 18 year olds living in the most disadvantaged areas of England are nearly twice as likely to apply than they were 10 years ago.
Commenting on the figures, Business Secretary Vince Cable said:
Going to university should be accessible to everyone with ability, not the ability to pay. Our reforms were tough but they were right and we are now seeing the fruits of our efforts. Eighteen year olds from poorer backgrounds are applying at a record rate and are now twice as likely to consider going to university than 10 years ago. It's also good to see an increase in the number of people applying for engineering and technology. These are key to ensuring our country stays ahead of the global competition.

It's clear that young people understand that investing in a degree is an investment for their future. New students do not pay fees upfront, there is more financial support for those from disadvantaged backgrounds and everyone will make lower loan repayments once they are in well paid jobs.
Universities and Science Minister David Willetts said:
We've got record application rates for 18 year olds, 19 year olds, and people from disadvantaged backgrounds. Young people understand they do not have to pay up front to go to university. Our reforms are working.
Notes to editors
For more information on these figures please contact UCAS (James Durrant - 01242 545 469 / j.durrant@ucas.ac.uk)

The government's economic policy objective is to achieve 'strong, sustainable and balanced growth that is more evenly shared across the country and between industries'. It set 4 ambitions in the 'Plan for Growth', published at Budget 2011:
to create the most competitive tax system in the G20
to make the UK the best place in Europe to start, finance and grow a business
to encourage investment and exports as a route to a more balanced economy
to create a more educated workforce that is the most flexible in Europe
Work is underway across government to achieve these ambitions, including progress on more than 250 measures as part of the Growth Review. Developing an Industrial Strategy gives new impetus to this work by providing businesses, investors and the public with more clarity about the long-term direction in which the government wants the economy to travel.
Published 31 January 2014