Press release
Universities Minister demands better value for money for students
Universities Minister Jo Johnson outlines government plans to give students better value for money from their degrees.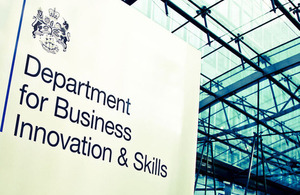 sets out action to support BME and disadvantaged white boys to get a degree
calls for students to get better value for money and consistently high-quality teaching from their universities
confirms green paper to be published in Autumn for consultation
Universities Minister Jo Johnson today (9 September 2015) outlined government plans to give students better value for money from their degrees by incentivising excellent teaching, greater transparency and ensuring student protection.
With a record number of students entering higher education this year, including many more starting science subjects and more from disadvantaged backgrounds than ever before, Johnson congratulated the sector on its hard work in a speech to university vice-chancellors.
However, Johnson called for more action to be taken to focus on the student experience, raise teaching standards and ensure universities welcome students from all backgrounds. The government's green paper, which will be published in the Autumn will include measures to:
incentivise and reward higher quality teaching through the 'Teaching Excellence Framework'
use previously unavailable data from UCAS to better understand how students' background, prior attainment and course choices impact on access to higher education, particularly among young people from black and ethnic minority backgrounds
deregulate the system to improve competition and give students more choice
Universities Minister Jo Johnson said:
We have made strong progress to open up access to higher education but I'm still concerned about low participation rates for disadvantaged white boys and we must do more to raise outcomes for those from black and minority ethnic communities. Making university admissions data available will help the whole sector target its efforts much more effectively.

As a one nation government we want everyone to have the opportunity to work hard and reach their full potential. As Universities Minister, I hear too many stories from parents about their kids not getting enough teaching time or support from their university. While we have one of the best higher education sectors in the world, I want to make sure everyone who invests in a degree feels they are getting value for money.
Widening access
In order to help improve the representation of disadvantaged groups in higher education, the Universities Minister also announced a new agreement with UCAS to publish data on the outcomes of the admissions process.
This change is an important step in the drive to improve social mobility and will support the government's commitment to double the proportion of students from disadvantaged backgrounds progressing to higher education by 2020 compared with 2009 and secure a 20% increase in black and ethnic minority students going to university.
The minister also confirmed his commitment to tackle the increasingly poor participation of white male students from disadvantaged backgrounds across the country.
The Teaching Excellence Framework
The green paper will place teaching at the heart of the university experience, with measures designed to enhance contact time with students. By bringing a sharper focus on the quality of teaching, the Teaching Excellence Framework (TEF) will provide incentives for those that improve their teaching, including the ability to raise their tuition fees in line with inflation.
Market reform
To provide students with greater choice of how and where to start a career, the green paper will also prioritise the removal of barriers to entry into the higher education market to open the door to challenger institutions, deliver greater competition and drive up standards.
To help remove some of these barriers, the Universities Minister today (9 September 2015) announced he will lift the moratorium on applications for new Degree Awarding Powers and University Titles. This will enable successful providers to challenge traditional institutions by offering more choice for students looking to study for a degree.
Notes to Editors
Jo Johnson was speaking at the Universities UK Conference at the University of Surrey. The full copy of the speech can be found at Higher education: fulfilling our potential.
The green paper will be published in the Autumn and will be open to consultation.
UCAS data shows the proportion of young people from the least advantaged backgrounds placed in higher education rose by 4% this year.
The agreement reached with UCAS involves:

publishing their analysis of offer rates broken down by different groups (such as disadvantaged groups) at different types of institution (ie the most selective institutions). This would initially cover data for applicants for entry in 2010 to 2014. UCAS have agreed to do this first by ethnic group and will publish that shortly.
UCAS has announced that it will start sharing data through the Administrative Data Research Network for customers who choose to do so. The first year of students would be 2016 entrants. They will look at all ways to make this data as useful as possible for researchers.

Once the moratorium on applications for Degree Awarding Powers and University Titles is lifted, the revised guidance for applications will be available on www.gov.uk.
Published 9 September 2015