Universal Periodic Review of Venezuela at the Human Rights Council
UK statement delivered on 1 November 2016.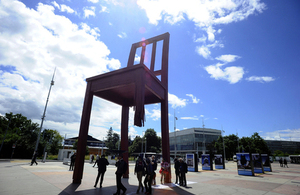 The UK welcomes Venezuela's full submission of its treaty body reports since 2011. We would like to know how the Committees' recommendations will be implemented.
We strongly support rules-based international systems and encourage Venezuela to fulfil its human rights and democratic commitments under International Treaties.
The United Kingdom is concerned by the latest developments in Venezuela, particularly the political, economic and security challenges. The UK urges all sides to engage in constructive dialogue, whilst respecting the Venezuelan Constitution, democratic liberties and the independence of State powers.
We have 2 recommendations: 1. issue an invitation to the Office of the High Commissioner of Human Rights for an official visit, by November 2017 2. To engage in constructive dialogue with the National Assembly, with agreed outcomes on economic and governance challenges by July 2017.
Published 1 November 2016