World news story
Universal Periodic Review of the Republic of Moldova at the Human Rights Council
UK Statement delivered on 4 November 2016.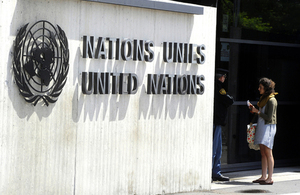 The United Kingdom welcomes the Republic of Moldova's participation in this UPR and the progress it has made in strengthening its legislative framework and practice in combating torture.
However, we note that some patients held in psychiatric institutions, including women, are still reported as being subject to cruel, inhuman or degrading treatment or punishment. We urge further reforms to ensure the proper protection of these vulnerable groups. We also urge further progress to address violence against women in Moldova.
The United Kingdom strongly believes in the protection and promotion of the rights of persons belonging to national minorities, including their linguistic rights. We urge Moldova to do more to strengthen the unity between all ethnic and linguistic groups in the country.
We encourage Moldova to fully align its national legislation with the Rome Statute of the International Criminal Court, in particular incorporating provisions to cooperate promptly and fully with the International Criminal Court.
We have 2 recommendations:
That Moldova ratifies the European Charter for Regional or Minority Languages.
That Moldova accedes to the Agreement on Privileges and Immunities of the International Criminal Court
Thank you, Mr Vice-President.
Published 7 November 2016