World news story
Universal Periodic Review of South Sudan at the Human Rights Council
UK Statement delivered on 7 November 2016.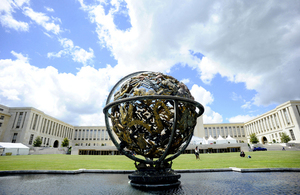 The UK welcomes South Sudan's 2015 peace agreement and the human rights provisions within it. We also welcome the development of a national strategy for Human Rights and the Joint Communiqué Against Sexual Violence.
We remain deeply concerned, however, by the appalling levels of sexual violence committed by all sides since the outbreak of fighting in December 2013. We must see accountability for the perpetrators of these crimes.
The extensive mandate given to the National Security Service poses a serious threat to freedom of expression. This has resulted in increased harassment and detention of journalists.
We recommend:
The Government of South Sudan issue clear, public orders to all armed forces, military intelligence, and allied militia to prevent and punish all abuses, including crimes of sexual and gender-based violence;
Work with the African Union to establish a Hybrid Court and the Commission for Truth, Reconciliation and Healing, within the time frame set out in the peace agreement.
Thank you Mr President.
Published 7 November 2016