World news story
Universal Periodic Review 30: Cuba
This UK statement was delivered during the 30th session of the Universal Period Review during the discussion of Cuba's Human Rights Record on 16 May 2018.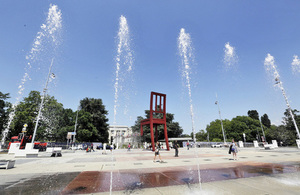 We are deeply concerned at reports of human rights defenders being prevented from travelling to Geneva for the UPR and have 3 recommendations.
End measures to restrict freedom of expression and assembly including short-term detentions and the use of broad criminal charges such as "dangerousness".

Criminalise all forms of human trafficking in line with the Palermo Protocols, and address reportedly coercive elements of Cuban labour practices and foreign medical missions.

Ensure the right to a fair trial and improve prison conditions through ratification of the ICCPR, adherence to the UN Basic Principles on the Independence of the Judiciary and the Role of Lawyers, and the Standard Minimum Rules on the Treatment of Prisoners. We encourage Cuba to consider how promoting universal human rights is compatible with the 'principle of national unity'.
Published 16 May 2018