Universal Periodic Review 30: Colombia
This UK statement was delivered during the 30th session of the Universal Period Review during the discussion of Colombia's Human Rights Record on 10 May 2018.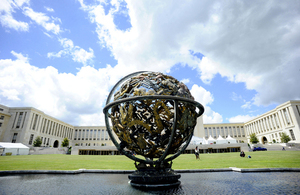 The UK welcomes the historic Peace Agreement between the Colombian Government and the FARC, and the opportunity it represents to improve stability in the country. However, key human rights concerns remain including violence against human rights defenders and significant rates of impunity in cases of conflict related sexual violence.
The UK recognises the efforts by the Colombian Government to tackle these challenges, including the creation of the Attorney General's Special Investigation Unit.
We have three recommendations:
implement a comprehensive protection system for human rights defenders, especially for afro-Colombian and indigenous communities, backed by public statements that promote the role of human rights defenders

enhance relevant investigative and victim support expertise in the judicial system to increase prosecutions in cases of conflict related sexual violence and reduce the high impunity rate for such cases

increase training and capacity to deliver the National Action plan on human trafficking, specifically techniques to identify patterns in cases of children and women victims, which lead to investigation and prosecution of the responsible criminal groups
Published 10 May 2018