World news story
Universal Periodic Review 30: Cape Verde
This UK statement was delivered during the 30th session of the Universal Period Review during the discussion of Cape Verde's Human Rights Record on 8 May 2018.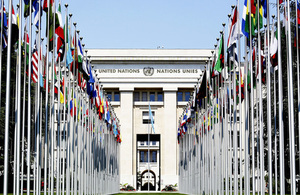 The United Kingdom welcomes the delegation of Cape Verde and acknowledges Cape Verde's progress on human rights since its last Universal Periodic Review.
We welcome the Government's continued commitment to address human rights issues and urge the Government of Cape Verde to implement its outstanding accepted UPR recommendations as soon as possible.
[We are encouraged by the steps taken to prosecute public officials and police officers who have committed human rights abuses, but the process is lengthy and inconsistent.]
We welcome, in particular, the Government of Cape Verde's progress on the reporting of human rights issues through the creation of an inter-Ministerial commission.
We have two recommendations:
We urge the government of Cape Verde to renew the national action plan with specific reference to trafficking and exploitation of women and children through prostitution.

We encourage the adoption of an open, merit-based selection process when selecting national candidates for UN Treaty Body elections.
Published 8 May 2018