World news story
Universal Periodic Review 30: Azerbaijan
This UK statement was delivered during the 30th session of the Universal Period Review during the discussion of Azerbaijan's Human Rights Record on 15 May 2018.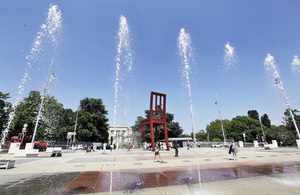 The UK welcomes some positive developments in Azerbaijan, notably ODIHR's recent unrestricted election monitoring, and the success of the Azerbaijani Service and Assessment Network (ASAN) in promoting citizens' rights and fighting corruption.
We are concerned about areas of deterioration since 2013. In particular, restrictions on freedoms of the press and assembly, and on the independence of the judiciary, and the harassment of human rights defenders.
We recommend:
1) End all interference in the work of lawyers through disbarment or other disciplinary measures on improper grounds such as expressing critical views.
2) Adopt an open, merit-based process when selecting national candidates for UN Treaty Body elections.
3) Work towards ending all forms of human trafficking including by developing a new National Action Plan for Combating Trafficking in Human Beings.
Published 15 May 2018