World news story
Universal Periodic Review 29: The United Arab Emirates
This UK statement was delivered during the 29th session of the Universal Period Review during the discussion of the United Arab Emirates' Human Rights Record on 22 January 2018.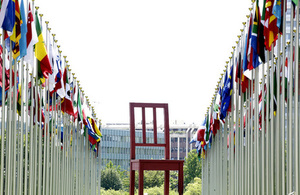 The UK welcomes the UAE's participation in the UPR process. We recognise positive steps taken by the UAE since her last UPR towards promoting and protecting human rights and fundamental freedoms. These include the introduction of the National Strategy for the Advancement of Women, improved rights and protections for migrant workers, and the change to domestic legislation allowing state security cases to be held at the Federal Court of Appeal.
Nevertheless, we remain concerned about a number of human rights issues in the UAE, in particular the use of capital punishment.
We recommend that the UAE:
Commute all death sentences in respect of drug offences and other non-lethal crimes; and amend legislation such that the death penalty is only available in respect of the "most serious crimes" and compliant with international minimal standards.

Adopt an open, merit-based process when selecting national candidates for UN Treaty Body elections

Improve and expand identification and protection procedures for victims of human trafficking and forced labour, ensuring adequate access to support services and sheltered accommodation.
Published 22 January 2018