World news story
Universal Periodic Review 29: Serbia
This UK statement was delivered during the 29th session of the Universal Period Review during the discussion of the Serbia's Human Rights Record on 24 January 2018.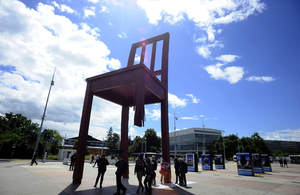 The UK thanks Serbia for its continued commitment to the UPR process.
We welcome Serbia's efforts to tackle human trafficking, in particular, the Serbian Assembly's recent partnership with the Human Trafficking Foundation (UK) to host a regional parliamentary workshop on human trafficking in the Western Balkans.
We are increasingly concerned for the protection of freedom of expression. We urge Serbia to step up enforcement of its own guarantees for freedom of expression and address growing political pressure; and intimidation, harassment and physical attacks against journalists. We note the limited pluralism in the media, and welcome the tasking of a Ministry of Culture and Media working group to develop a new media strategy.
We recommend:
Ensure that all threats, intimidation and attacks against journalists and human rights defenders are thoroughly investigated, ensuring no impunity for perpetrators.

Increase human and financial resources dedicated to the Office for Coordination against Trafficking in Persons, to help drive national improvements in support of achieving SDG 8.7.

Adopt an open, merit-based selection process when selecting national candidates for UN Treaty Body elections.
Published 25 January 2018