World news story
Universal Periodic Review 29: Mali
This UK statement was delivered during the 29th session of the Universal Period Review during the discussion of Mali's Human Rights Record on 16 January 2018.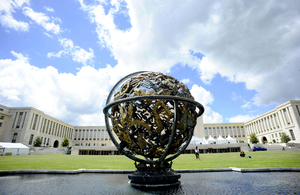 We welcome Mali's commitment to the UPR.
We acknowledge the difficult security situation in Mali. However, further progress must be made towards implementing the Algiers Peace Accord and its human rights provisions.
Human rights violations continue in a culture of impunity by armed forces, including extra judicial killings and alleged sexual violence against minors. Independent and impartial investigations and prosecutions must be undertaken.
We also underscore that firm public commitment is needed by the state to local, parliamentary and presidential elections in 2018.
Furthermore, we are concerned at reports of gender based violence and the low numbers of prosecutions. More must be done to improve the rights of women and children, including banning Female Genital Mutilation and prosecuting those responsible, and re-opening schools in areas affected by conflict.
We recommend:
Taking action to prosecute security forces involved in human rights violations.

Taking steps to review and strengthen legislative framework to ensure the worst forms of child labour are criminalised and effectively prosecuted.

Adopting an open, merit-based process when selecting national candidates for UN Treaty Body elections.
Published 16 January 2018