World news story
Universal Periodic Review 29: Luxembourg
This UK statement was delivered during the 29th session of the Universal Period Review during the discussion of Luxembourg's Human Rights Record on 18 January 2018.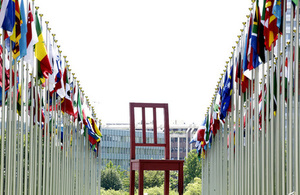 The United Kingdom recognises Luxembourg's good record of human rights protection and strong commitment to maintaining and strengthening human rights. We are pleased that Luxembourg has recently ratified Protocol 15 amending the Convention for the Protection of Human Rights and Fundamental Freedoms. We commend the actions that Luxembourg has taken to combat Modern Slavery and Human Trafficking such as setting up a monitoring Commission and releasing a National Action Plan. We note that the report due for submission under the ICCPR in 2008 is still outstanding and hope that Luxembourg will be in a position to submit it without further delay.
We recommend:
Ratifying the 2014 Protocol to the ILO Forced Labour Convention.
Adopting, as a matter of policy, an open, merit-based process when selecting national candidates for UN Treaty Body elections
Adopting legislative and other measures to ensure the prompt removal of online images of child abuse from internet hosting services registered in Luxembourg.
Published 19 January 2018