World news story
Universal Periodic Review 29: Liechtenstein
This UK statement was delivered during the 29th session of the Universal Period Review during the discussion of the Liechtenstein's Human Rights Record on 24 January 2018.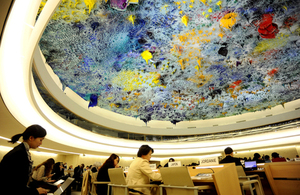 The UK welcomes Liechtenstein's engagement with the UPR and its continued commitment to human rights internationally.
The UK recognises the creation of Liechtenstein's Human Rights Association since its last UPR in 2013 and appreciates Liechtenstein's commitment to disrupt financial chains associated with human trafficking and modern slavery. The expertise of Liechtenstein's financial centre is welcome in our work to tackle this issue.
We would encourage Liechtenstein to enact comprehensive anti-discrimination legislation that protects all elements of society including specific legislation prohibiting racial discrimination.
We recommend:
Continuing to build capacity and resilience among law enforcement personnel and the criminal justice system in support of Sustainable Development Goal 8.7.

Adopting an open, merit-based process when selecting national candidates for UN Treaty Body elections.

Signing and ratifying the United Nations Convention on the Rights of Persons with Disabilities by Liechtenstein's next UPR review.
Published 24 January 2018