World news story
Universal Periodic Review 29: France
This UK statement was delivered during the 29th session of the Universal Period Review during the discussion of France's Human Rights Record on 15 January 2018.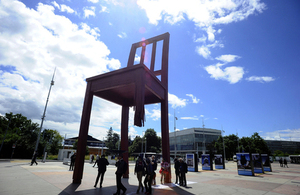 We recognise France's strong commitment to human rights. We value our cooperation with France on human rights, including in the fight against human trafficking.
The protection of human rights requires continuous efforts. We commend President Macron's recent commitment to advance gender equality.
We recommend:
Progressively develop existing capacity to effectively tackle modern forms of human exploitation, in fulfillment of its international treaty obligations, building resilience across constituent lands of the French Republic.

Adopt an open, merit-based process when selecting national candidates for UN Treaty Body elections.

Address the disparities in gender equality across employment sectors.
Published 15 January 2018