Universal Periodic Review 29: Burundi
This UK statement was delivered during the 29th session of the Universal Period Review during the discussion of Burundi's Human Rights Record on 18 January 2018.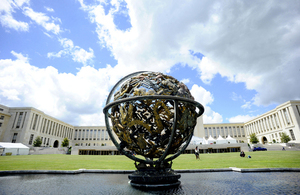 The UK welcomes Burundi's participation at the UPR and hopes that this signals the start of a willingness to cooperate with other regional and international human rights mechanisms.
Since the last review, the human rights situation in Burundi has deteriorated and the Government has shown no willingness to improve the situation. The UK is concerned that excessive use of deadly force, torture, ill treatment, sexual violence, extrajudicial execution and arbitrary detention continues in Burundi, with evidence that it is perpetrated by the security services.
We have three recommendations:
• Establish a national preventative mechanism regarding torture, ensuring investigation and prosecution in cases of extra-judicial killing and torture to hold the perpetrators to account, including state agents.
• Implement fully the national anti-trafficking action plan and establish the Consultation and Monitoring Committee, ensuring adequate human and financial resource.
• Adopt an open, merit-based selection process when selecting national candidates for UN Treaty Body elections.
Published 18 January 2018